Live and dance the Argentine Tango
Gisela and Sergio will introduce you and make you discover all the particularities of the Argentine Tango. With their long years' experience they will make you love this dance.
Many courses, events and workshops are organized all along the year.
If you wish to sign up for a beginner, an intermediate or an advanced level course, please click on the below button.
Next Tango event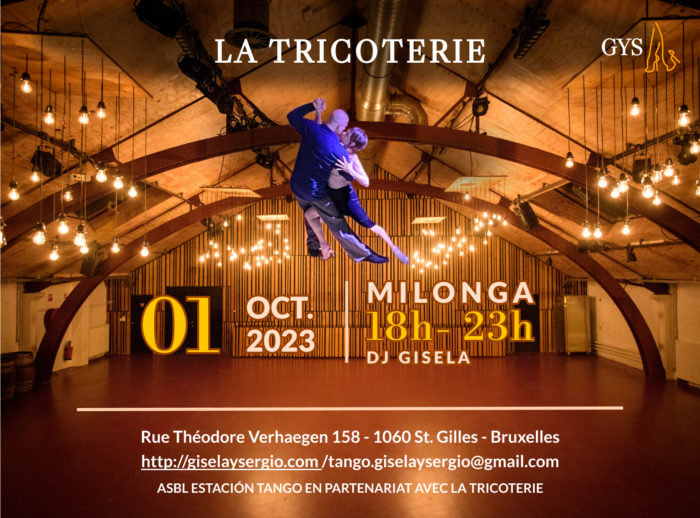 MILONGA With Gisela & Sergio
…Tomá una copa, sentáte con tus amigos y cabecea tu primera tanda … 
SUNDAY 1st of OCT. 2023
La Tricoterie – Rue Théodore Verhaegen 158 – 1060 St. Gilles – Bruxelles
18h-23h Salon Tango DJ Gisela
All the information about our courses & milongas in AGENDA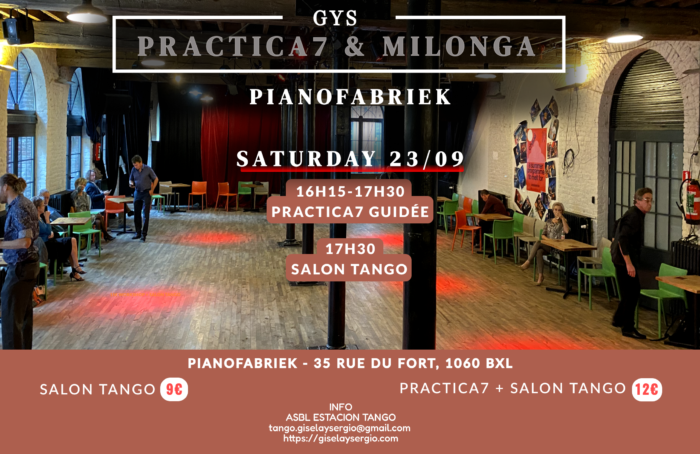 MILONGA With Gisela & Sergio
SATURDAY 23th of SEPT. 2023
Pianofabriek – 35 Rue du Fort, 1060 Bxl
16h15-17h30 Practica7 guidée
17h30 Salon Tango
All the information about our courses & milongas in AGENDA
Classes Calendar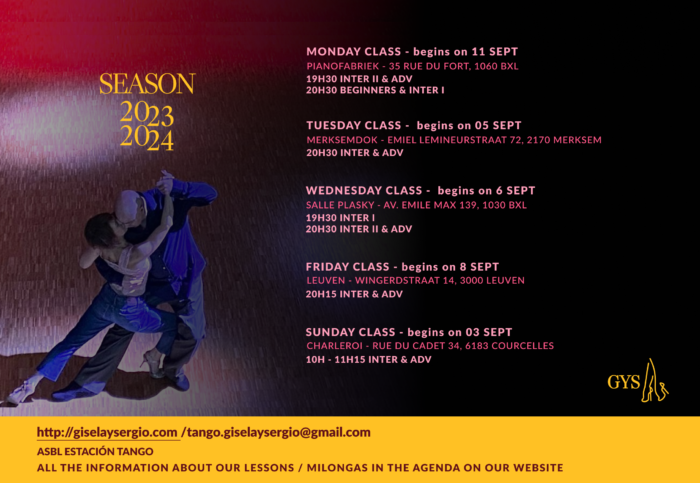 Milongas Calendar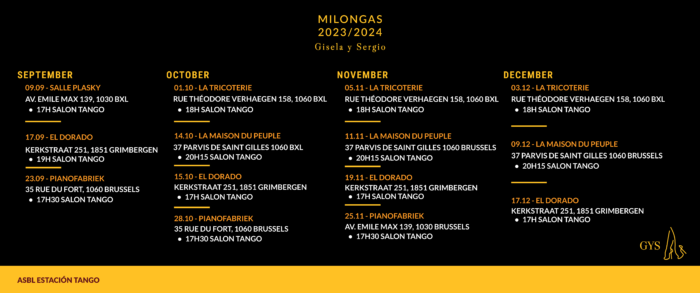 Stage Tango 19 au 26 août 2023
Vaison-la-Romaine Haute-Provence France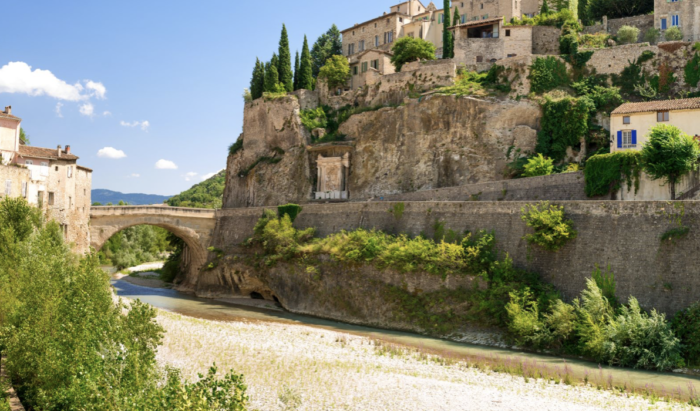 The workshop takes place in Vaison-la-Romaine, known for its rich Roman remains as well as for its medieval city and its cathedral.
Course of the workshop:
During the day: Workshops
In the evening: Milonga with DJ
Accommodation:
Accommodation at the hotel in the center of the city: double room
Food and beverage 3/4 pension:
Breakfast at the hotel
Afternoon snack at the hotel at 4 o'clock
Evening meals: in different restaurants in the city
Discover the life of Gisela and Sergio
From South America to Europe, Gisela and Sergio travelled to develop their artistic career.
This book traces their life up to Tango under different artistic influences: Ballet Teatro San Martin Argentina, Mime with Marcel Marceau, Mudra with Maurice Béjart, Folies Bérgère Paris, Meeting with Jorge Donn, Tango Gomina creation and more adventures.
Available in 5 languages: Spanish, French, English, German and Dutch.
To order the first album, please contact tango.giselaysergio@gmail.com.
Tango salon Gisela and Sergio
Tango is an unpredictable face-to-face between a man and a woman, a unique and privileged moment, a spontaneous dialogue in a game for two, full of tenderness and violence; a solemn challenge to our creativity. Our work is dedicated to finding this tango, where two bodies are united in space. They seem to float while they move together in harmony, intense and timeless, and finally appear to blend in the same perception of the rythm and the music.
― Text from Gisela Graef-Marino
With Gisela and Sergio I discovered Tango… A first class and I fell in love with this dance… Its magic literally bewitched me and my life became different. Thank you from all my heart.
There are no words to describe how I feel when I dance Argentine Tango with Gisela and Sergio … Fusion, Emotion, Timelessness, Harmony… Thank you and continue to marvel us every week.